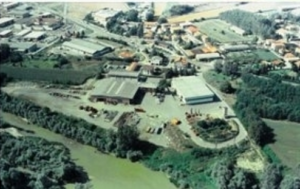 C.T.E., founded in 1968, predominantly deals with the development, operation and maintenance of systems for the transmission and distribution of electrical energy and cableway systems in general.
In particular, over the years C.T.E. has acquired extensive experience and knowledge in the field for the construction and maintenance of low, medium, high and very high voltage power lines and lift systems.
The company's flexible and modern approach, combined with wise investment strategies when purchasing new equipment and updating its technology, have allowed C.T.E. to obtain trust of its clients, including ENEL, TERNA, AEM Milano and many other important private companies.
C.T.E. S.p.A. COSTRUZIONE TECNO ELETTRICHE was founded in 1961 as a sole trading company by Mr. Riccardo CASSINA in Turin. The company worked on power lines for private companies such as SIP, EDISON, FALCK.
Since its foundation, the company has specialised in all types of works associated with POWER LINES: MV – LV power lines, both buried and overhead and High Voltage Overhead and Buried Power Lines, on behalf of renowned companies.
In 1968, C.T.E. moved from Turin to Acqui Terme (AL) and was transformed into an S.r.l. company (limited responsibility).
In 1971 C.T.E. built its current offices in Acqui Terme with large industrial sheds, offices and its own fully equipped workshop for mechanical constructions and fluid power repairs, and for metal works in general.
In 1980 C.T.E. became a S.p.A company (joint stock company), entering the market for the construction of cableway systems (cable cars, chair lifts, funicular railways, etc.).
In 1989 C.T.E. purchased a helicopter type SA 315 B "LAMA" to simplify constructions in high altitude mountainous areas and to increase its technical and operating capacity. Since 1989, thanks to the acquisition of the company Arrighelli S.r.l. and the subsequent incorporation, C.T.E. has also worked in the railway sector on electrical traction, primary power lines, technological and signage systems.
It has established its own documented Quality Management System, obtaining certification for the same in 1996. The company's current UNI EN ISO 9001/2008 certificate was issued by IAS REGISTER.
In 2000, the company obtained S.O.A. Certification, necessary in order to participate in public tenders.
Since 2000, C.T.E. has also worked in the sector for the construction and installation of lighthouse towers and telecommunication towers, using specialised teams.
Since 2000, the company has also offered the installation of buried high voltage and very high voltage cables up to 380 kV.
Since 2002, C.T.E. has worked beyond its national confines, having been awarded contracts for the construction of two cableway systems in the French Alps.
Furthermore, in 2001 C.T.E. began to work on overhead and buried connections for wind farms and photovoltaic plants.
In 2008, C.T.E. S.p.A incorporated New Geotecn s.r.l. for the execution of surveys, reinforcement and geognostic works in general. Subsequently, in 2011 C.T.E. requested and obtained (as provided for by DPR no.380 of 2001) government authorisation for the "execution and certification of geognostic surveys, sample takings and onsite tests".
In recent years, C.T.E has enjoyed an increased presence in the national territory and has continuously expanded its fields of operation, working on Electrical Substations and Primary and Secondary Electrical Cabins.